【Regarding future performances】
It will be theater performance date reduction for a while.
Saturday and Sunday: Normal business
Mon/Thu/Fri: Reservation only (Reception by the morning of the previous day. It is okay for one person)
Tuesdays and Wednesdays: Regular holidays
Reservations can be made from TripAdvisor or the website.
https://dekonaru-za.com
【Notice of performance restart & start dash campaign】As of July 31, 2020
8/1 (Tue) 13:30 performance restart!
The "Start Dash Campaign" has started with the restart of the performance!
〈Normal〉 Adult ¥3,000, Child ¥1,500 → 〈Special Price〉Adult ¥1,500, Child ¥1,000
Please come and take this opportunity.
The performers and staff are looking forward to your visit.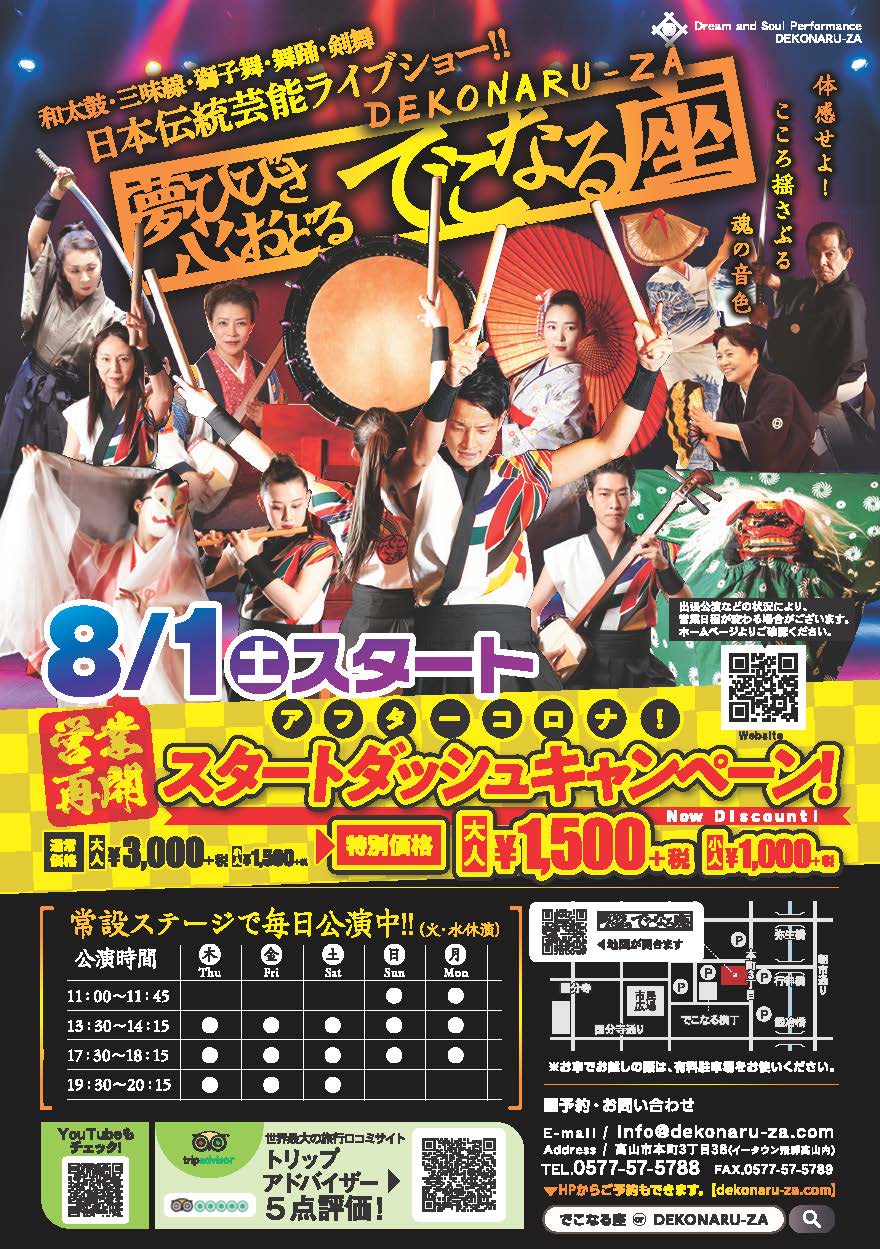 ===================================
【Measures to the Coronavirus (as of April 3, 2020)】
At Dekonaruza, we are taking measures to deal with the new coronavirus.
== About our theater's infection control measures ==
◎Disinfectants are now available at the entrance and in the theater. We highly recommend practicing proper hand sanitization at all times.
◎We regularly remove bacteria from places where customers frequently touch such as reception counters, railings, and seats.
◎We regularly change the air in the theater.
◎In consideration of the health of both customers and staff, the staff will be wearing masks as a precautionary measure.
◎Please have a seat with enough space.
== About the performance ==
The performance at this time is as usual, but it may change depending on the future situation.
We will keep you updated on our website and SNS.
== About the rent space ==
If you want to avoid contact with other customers, we can also offer private performances.
Reservations are possible for more than 10 people.
Please do not hesitate to contact us....
===================================